When:
2013-10-17T00:00:00-04:00
2013-10-18T00:00:00-04:00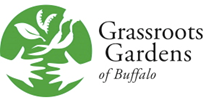 Please join the Grassroots Gardens of Buffalo staff, Board of Directors, and Community Gardeners in celebrating another bountiful year of gardening, learning, and beautifying our City. Our 7th Annual Harvest Celebration Fall Fundraiser will feature beer, wine, and food catered by Whole Hog. Visit grassrootsgardens.org for ticket information.