Growing Food Connections is dedicated to the intellectual legacy of Professor Jerome L. Kaufman, FAICP, who laid the foundation of food systems planning research, pedagogy and practice within the discipline of urban and regional planning.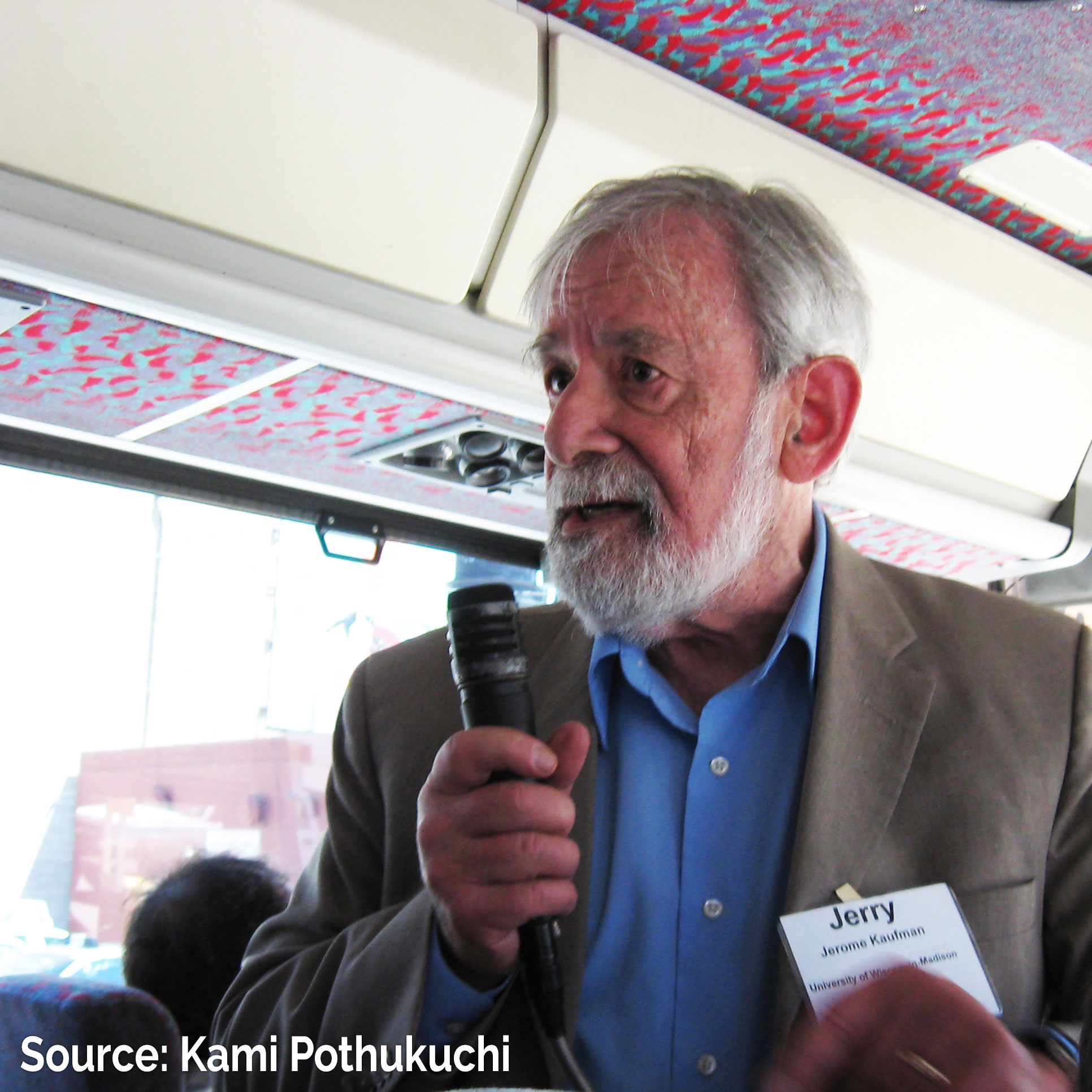 A visionary, Professor Jerome Kaufman (1933-2013) displayed a rare knack for raising questions about issues ahead of their time. He has left a lasting legacy in the area of food systems planning.
Professor Jerome L. Kaufman, FAICP, (
1933-2013
) laid the foundation for the study, pedagogy, and practice of food systems planning in the profession of urban planning.  Kaufman taught at the University at Wisconsin-Madison from 1971 to 2001, when he retired and was accorded Emeritus status.  Prior to joining the
University of Wisconsin-Madison
, Kaufman worked for the American Society of Planning Officials (ASPO), the predecessor to the American Planning Association.
Kaufman made considerable and lasting contributions to the discipline and practice of urban planning. A visionary, Kaufman displayed a rare knack for raising questions about issues ahead of their time. His interests spanned planning ethics, urban education, strategic planning, central city planning, alternative dispute resolution, and his lasting legacy, the area of food systems planning.
Until the late 1990s, the food system, or the network of activities, stakeholders, resources, and institutions that deliver food from field to table, was largely absent from planning discussion. In 1996, Kaufman founded the Madison Food System Project. An early activity of the Project was a capstone seminar class he co-taught in Spring 1997 with Dr. Kami Pothukuchi, on urban food systems in the Department of Urban and Regional Planning at University of Wisconsin. The class produced one of the earliest reports on food systems planning, "Fertile Ground," which informed subsequent efforts led by Kaufman and colleagues. With his collaborators, Kaufman mapped multiple ways in which municipal planning affects and is impacted by the food system.
During Kaufman's retirement from his faculty position (2001-2013), considerable shifts occurred in the planning discipline. Because of his continued innovation and leadership during retirement, the American Planning Association (APA) issued the Policy Guide on Community and Regional Food Planning (Kaufman, J., K. Pothukuchi, and D. Glosser. 2007) and a growing number of local governments adopted plans to guide their communities' food systems to a healthier future. Today, planning scholars in other, more dominant, areas of planning are taking note of the importance of food systems for planning practice as well: the editor of the Journal of the American Planning Association special issue on growth management noted the "increasing interest in food systems" as one of four new issues that must be tackled by growth management planners in the future.
Recently, numerous academic positions have been posted by universities seeking to hire faculty in food systems planning. This most recent shift is an indication of the lasting legacy of Kaufman's work, as it shows the now widespread acceptance of food systems planning's importance. Recipients of the Kaufman Fellowship will be ideally positioned to carry this legacy forward as they move into their careers and train the urban and regional planning academics and practitioners of tomorrow.