Extension and outreach is a vital component of this project. Virtual focus groups facilitate this process of extending the knowledge and information we generate to a large audience.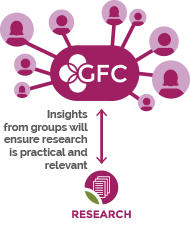 University Extension is a vital partner in Growing Food Connections. As such, Web dialogues (a form of virtual focus group) are conducted with Extension professionals to further develop the GFC-Extension partnership and to ensure that our work is meaningful, applicable, useful and timely to the broader Extension community. With the GFC team, Ohio State University has partnered with the North Central Regional Center for Rural Development to conduct the Web dialogues.
We work with Extension professionals from all program areas (ex. agriculture and natural resources, family and consumer science and community development) and from all regions of the US.  This process helps the Growing Food Connections team gain insights into how to best partner with Extension and how to ensure our overall research agenda is relevant to Extension audiences. These Web dialogues use the traditional focus group model but are conducted via phone and Internet to conduct surveys (or "polls") and have facilitated discussion. Conducting Web dialogues throughout the program represents a different model of thinking about outreach and extension. Conducting focus groups at the start of different phases of the program flips the concept of outreach/extension from a unidirectional method of delivery to a collaborative method of integrating outreach/extension throughout the program.
Web Dialogue Series
The first in a series of Web dialogues is "University Extension's Role in Framing and Supporting Change in the Food System." Growing Food Connections hosted six Web dialogues in May 2013 on this topic. Much of recent local food systems research has focused on understanding issues and barriers related to building community-based food systems. Despite this focus, there is emerging need to better understand the various roles played by agents of change in fostering collaboration and policy in support of local food systems.
Growing Food Connections identifies Extension professionals' attitudes about how food system change should happen, who should be involved in that change, and their perceived roles in community food systems development.