Growing Food Connections develops partnerships with internship sites nationwide, in order to facilitate the education of future food systems planning professionals.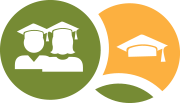 A key component of food systems education is providing students with hands-on training in food systems planning. In coordination with the Department of Urban and Regional Planning at the University at Buffalo and the Ohio State University, Growing Food Connections facilitates internships in food systems planning by identifying suitable public and private organizations as host internship sites for students. The Directory of Internship-Host Organizations are outstanding firms and organizations in the United States and Canada that can offer high quality internships to graduate students in food systems policy/planning.
Growing Food Connections LinkedIn Group provides a listing of current food systems planning and policy internships and job postings, as they become available.
Directory of Internship-Host Organizations