Growing Food Connections aims to address the concerns of family farmers and underserved community residents by building the capacity of local governments and their partners to create, implement and sustain food system plans and policies that both promote food access and foster a healthy agricultural sector. 
The purpose of GFC's Planning & Policy component is to facilitate a transfer of knowledge to local governments, Cooperative Extension and other food systems stakeholders regarding best practices for improving food security, while supporting small and underserved farmers and increasing the economic viability of food production. Recognizing there is no one-size-fits-all solution, lessons learned from case study research provide a better understanding of what works to inform tailored approaches that meet individual community conditions and needs.
 Growing Food Connections in  Communities of Opportunity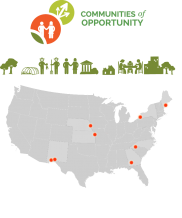 Communities of Opportunity
Building the capacity of local governments to improve community food systems to benefit small and mid-sized farmers and underserved community residents.
Growing Food Connections is actively partnering with local government staff, professional planners, Cooperative Extension, other agriculture and rural development experts and community food advocates in municipalities and counties that both have the need and potential to improve community food security. We are building connections with partners, identified as Communities of Opportunity, to:
• Create the partnerships and policy framework needed to sustain healthy food and agriculture system efforts over time.
• Foster the development and financing of infrastructure necessary to add value to agricultural production and ensure access to healthy, affordable and culturally acceptable food.
• Educate government staff on how to leverage public and private resources to create healthy, sustainable community-based food systems.
---
Community Webinars & Trainings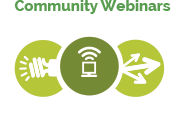 Beyond working directly with Communities of Opportunity, Growing Food Connections is providing a range of Community Webinars & Training Courses to other communities across North America interested in developing policies and implementation strategies for connecting the food production and food security needs of farmers and residents. GFC is developing and launching a series of webinars for local elected officials, regional councils and other key stakeholders on how to develop and implement a variety of partnerships, planning and policy strategies to strengthen their food systems.
These webinars are based on lessons learned from case studies in Communities of Innovation and Communities of Opportunity.