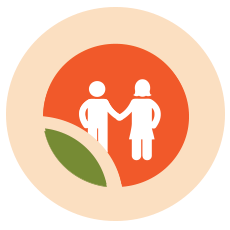 Calling all food system planners, policy makers, scholars, and practitioners!
Is your community engaging in regional-level planning that impacts food systems in the United States?  If so, your plan could be featured in the Growing Food Connections policy database!
The Local and Regional Government Policy Database, which is maintained by the Growing Food Connections team, is a searchable collection of about 200 local government policies that impact community food systems. This database provides policymakers, government staff, and community advocates interested in food policy with concrete examples of adopted/implemented local and regional public policies that address a range of food systems issues: rural and urban food production, farmland protection, transfer of development rights, food aggregation and distribution infrastructure, food policy councils, healthy food access, and more. Local and regional governments interested in developing or implementing food systems policies turn to this database as an important resource.
This month (March) we are scanning the country to identify regional plans that impact food systems. These plans can be regional-scale transportation plans, regional-scale sustainability plans, or really, any sort of regional plans that aim to strengthen a region's food system.
Do you know of a regional plan that should be showcased? Nominations are being accepted until March 15, 2019. We are especially interested in regional plans within the United States, published between 2012 and 2018.  A select number of regional plans will be showcased as a feature story on the Growing Food Connections website (and also drawn to the attention of researchers, practitioners, and students).
Nominating your regional plan is easy! Send a pdf copy or weblink to foodsystems@ap.buffalo.edu by Friday, March 15, 2019. Sooner is better!
Growing Food Connections is a federally-seeded project led by Dr. Samina Raja at the UB Food Lab, in partnership with Cultivating Healthy Places, Ohio State University, American Farmland Trust, and the American Planning Association. GFC is an action-research project integrates research, education, and planning and policy to strengthen community food systems. The Food Systems Planning and Healthy Communities Lab, a research group led by Dr. Samina Raja, housed in UB's School of Architecture and Planning, is dedicated to research that critically examines the role of local government policy in facilitating equitable, healthy, and sustainable communities.  The Food Lab's research unfolds in collaboration with other research groups within and outside UB, as well as in partnership with community and planning organizations and local governments in the United States and globally.